Yakima Valley Trends: Trending Towards a Greater Yakima

The Yakima Valley is culturally and geographically diverse, bringing with it unique challenges and opportunities for growth and development. At YVCF, we aim to improve decision-making and guide investments with relevant data. In partnership with Eastern Washington University's Institute for Public Policy and Economic Analysis, we invest in regular research through Yakima Valley Trends. Here is a small sampling of the most recent report:
Aging in Place
Fewer Yakima Seniors are living at home alone than they were 15 years ago.
Kids abound!
Yakima County reports a much higher than-average percentage of households (37%) with children.
A warning signal?
Early Childhood education is critical to long-term educational success of a child and local census estimates are showing a dramatic drop from the year prior.
Education: A Mixed Bag
Local rates of educational attainment after high school are continuing to decline but more local high school graduates are exploring and enrolling in both community college and four-year institutions.
In today's world, technology is centered on data - what we can do with it and what we can learn from it. With the growth of data mining, we now have access to large quantities of data, which can be transformed into useful information. This information can then be used to improve our community. Yakimavalleytrends.org is a great example of this with over 140 community indicators each updated throughout the year. There are 11 categories of community indicators:
People
Agriculture
Culture, Recreation, Tourism
Economic Vitality
Education
Environment
Equity, Inclusion
Health
Housing
Safety, Risky, Behaviors
Transportation
Yakima Valley Trends also allows you to analyze data throughout the Yakima Valley by location including:
Yakima County
City of Yakima
Upper Valley
Mid Valley
Lower Valley
Along with location, Yakima Valley Trends provide an intuitive chart for each indicator presented and a "more information" tab that breaks down why the indicator is important.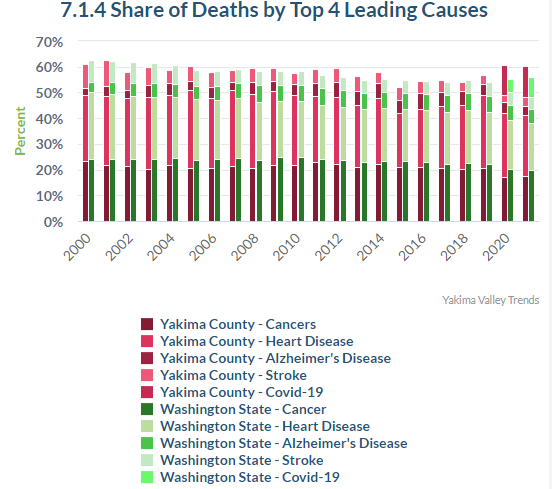 Yakima Valley Trends seeks to improve local, private, and public decision-making by providing relevant data in an easily navigable website. The data serve as neutral information for all parties involved in a local decision. More specifically, the goals are:
To collect and share a broad spectrum of information for individual community members, policy makers, non-governmental organizations, businesses, business organizations, researchers, and the press.
To track progress over time of various efforts toward a healthy, vibrant community.
To measure the community's progress spatially via benchmarks outside of the County.
To enable analysis of these trends.

A set of principles informed the process for the selection of chosen indicators presented and include the following criteria:
Important to large numbers of the community
Based on valid measurements, as defined by good science and social science, with credible sources
Understandable to the general public
Defined to allow comparisons to Washington State, the U.S. or those in similar sized communities
Available repeatedly over time to allow trend analysis
Easily accessible

Website development and maintenance comes from Eastern Washington University's (EWU) Institute (Institute) for Public Policy and Economic Analysis. The Institute is a multi-college unit conducting applied analysis at EWU. Institute, staff, and students, gathered the data, wrote the explanations, conducted statistical tests & designed this site. The Institute has created several similar indicator websites, including those for Grant County, Chelan, and Douglas Counties, three counties in Northeast Washington, Benton and Franklin Counties, Skagit County, and Kootenai County ID.
To learn more about Yakima Valley Trends click here.
---