Lining up for Better Communication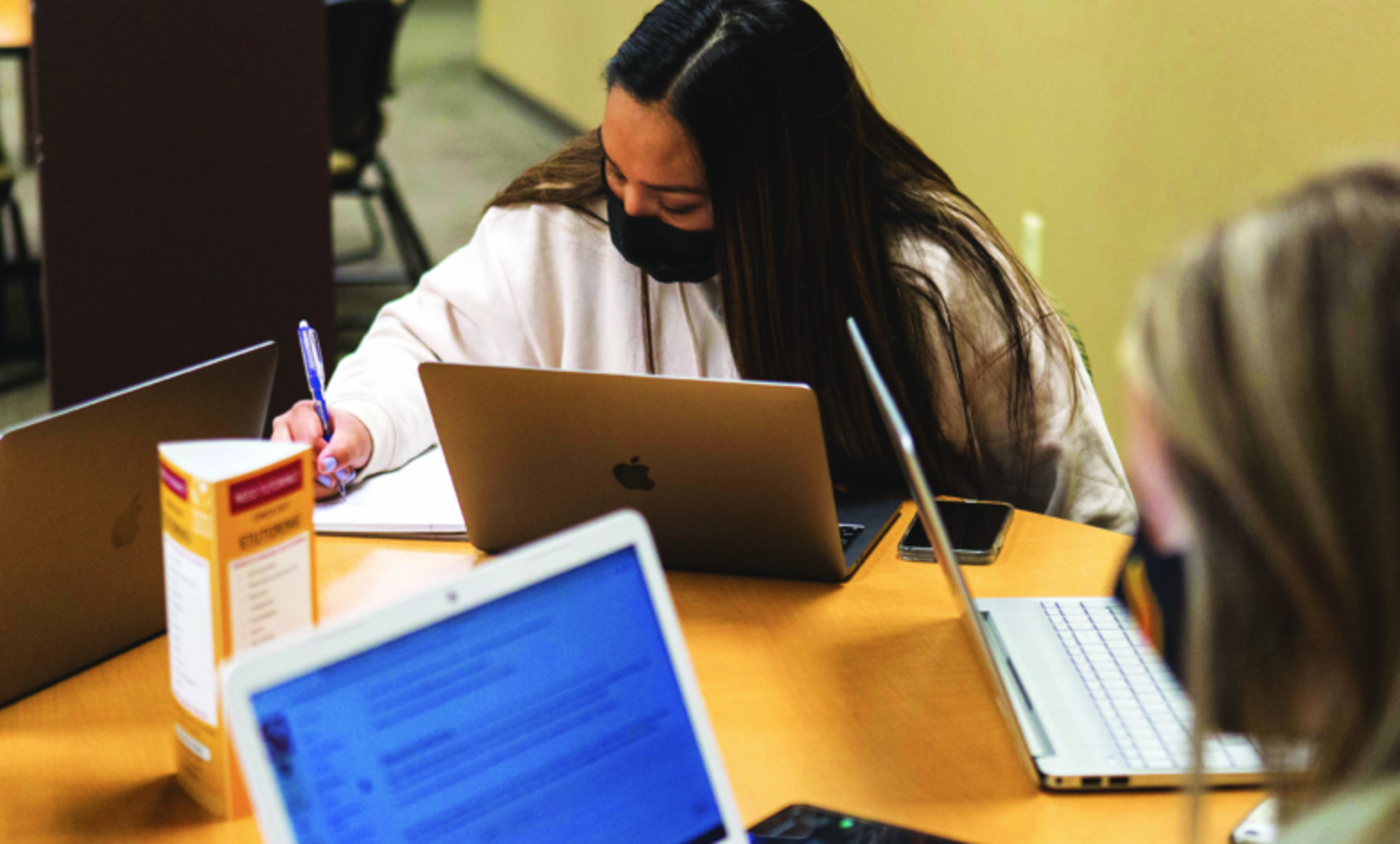 JOEL DONOFRIO
YAKIMA HERALD-REPUBLIC
January 28, 2022
Emree Weaver, Yakima Herald-Republic
Tiauna Walker, a softball player for Yakima Valley College, takes notes while studying in the library with her teammates on Tuesday. The majority of YVC classes are still online for the spring semester and the college's broadband enables students to have reliable access to the internet.
YAKIMA VALLEY
A lack of broadband infrastructure has hindered education, economic development and public services to rural Yakima County residents for several years, local officials say.
And the past two years of COVID-19 pandemic restrictions and increased online communication have only amplified the problem.
In search of a solution, public officials from various health, education and government organizations met last week for a Connectivity Summit organized by the Yakima Valley Broadband Action Team.
By sharing their concerns about the lack of high-speed internet access and reviewing recent attempts (some unsuccessful) to secure grant money for improving broadband infrastructure, the Yakima Valley will be better prepared to access money from the recently approved federal infrastructure bill to address the issue, said Sharon Miracle, CEO of the Yakima Valley Community Foundation.
"The needs are still great," Miracle told those participating in the online summit. "When (technology companies) say the problem is being addressed, don't believe it. We don't have the coverage we need. If we did, you wouldn't hear the stories you've heard today."
Most of those stories had a common theme: The lack of high-speed internet connections, particularly in the Lower Valley and on Yakama Nation land, prevent many residents from accessing online education, virtual health care visits, housing opportunities and even the criminal justice system.
Laura Crooks, CEO of Children's Village in Yakima, noted that 83% of the population they serve uses Medicaid, and more than 60% of the families have a Hispanic background.
The organization provides care and services for children with special health needs. "Broadband is slow for many of our families," Crooks said. "With children attending school online, there's not enough bandwidth for that plus video medical clinics. "When the camera has to be turned off for medical visits, it's hard to build trust, to see children and see what they need," she added.
Education
Online educational opportunities used to be a luxury, but the last two years of COVID restrictions have made them a must as students and teachers from kindergarten through college connect online, noted Kevin Chase, ESD 105 superintendent. "We're facing two years of loss of education for students (due to the pandemic)," Chase said. "That is something we are going to be grappling with as a society for quite some time.
"Internet connectivity is absolutely necessary if we're going to dig out of the hole of learning loss that the pandemic has thrown us into," he added. "Broadband internet is not a luxury anymore. It is an absolute right in which all families should be able to partake."
Unfortunately, that is not the case for many students, including those trying to participate in online learning at Yakima Valley College, said Jennifer Ernst, vice president for instruction. "There are a lot of people that we've seen leave our college because they simply cannot deal with the frustration of trying to access all of the education materials that we're providing online," Ernst said.
The frustration is evident in many parts of the Yakama Nation, where a vast area of reservation land that is sparsely populated receives little infrastructure investment from commercial companies, said Ray Wiseman of Yakama Nation Networks and Yakama Power.
Only 28% of the reservation has Wi-Fi internet access, and those areas often have very slow service. Surveys and tests of upload and download speeds show Yakama Nation residents fall far short of USDA standards for high-speed internet access, said Estakio Beltran, co-leader of the Yakima Valley Broadband Action Team.
This shortfall in connectivity produces a lack of investment (and demand) for housing and a lack of jobs and economic development, said Esther Magasis, Yakima County director of human services.
"Fiber and broadband development goes hand-in-hand to support (other) infrastructure that's needed to address our housing shortage," Magasis said. "Connectivity continues to be the thing that limits development," added Dan Maycock, co-founder of Loftus Labs in Tieton.
Federal funding
Another round of grants to help fund internet infrastructure improvements is on the way for communities which are organized and can show a need for it, said Hart Clements and Raquel Crowley, staffers for U.S. Sen. Patty Murray, D-Wash.
The bipartisan infrastructure law, approved in the fall and signed by President Joe Biden, will provide at least $100 million for broadband development in Washington state, Clements told those participating in the connectivity summit.
The National Telecommunications and Information Administration (NTIA) is collecting written comments on three infrastructure law programs — the Broadband Equity, Access and Deployment program, the Middle-Mile Broadband Infrastructure Program, and the Digital Equity Planning Grant Program — through Feb. 4. NTIA is also holding a series of listening sessions addressing each infrastructure law broadband funding. The next webinar is 11:30 a.m. PST on Wednesday and will address the Broadband Equity, Access, and Deployment (BEAD) program. Clements and Crowley said there is no exact timeline on distribution of the funds, with details of how they will be distributed to be announced after the listening sessions and public comment period.
• Contact Joel Donofrio at jdonofrio@yakimaherald.com.
Grants announced for Yakima Valley schools Federal funds awarded through the American Rescue Plan will help 12 Yakima Valley school districts improve their broadband communication systems. Sen. Patty Murray, D-Wash., announced Friday more than $88 million in grants to schools and libraries across the state. Funding comes via the Federal Communications Commission's Emergency Connectivity Fund, which provides digital tools and services to schools and libraries in communities harmed by the COVID-19 pandemic.
Area school districts receiving awards include:
• Yakima School District, $1,377,460
• Wapato School District, $587,790
• Mabton School District, $471,819
• Prosser School District, $463,514
• Zillah School District, $297,850
• Sunnyside School District, $246,310
• Grandview School District, $230,756
• Granger School District, $168,783
• West Valley School District, $164,020
• Mount Adams School District, $145,780
• Highland School District, $140,400
• East Valley School District, $115,371
Other area entities receiving FCC Emergency Connectivity Funds include Inspire
Development Centers of Sunnyside ($339,077), the Cle Elum-Roslyn School District
($251,856) and the Ellensburg School District ($67,439).
---